Inishowen Trad Orchestra to headline Feile na hInse 2022 !
15TH & 16TH APRIL 2022
Inishowen Gateway Hotel
Buncrana, Inishowen, County Donegal @8pm
Inishowen Traditional Music Project is delighted to announce that the Inishowen Trad Orchestra will re-convene and perform two special concerts. This is the featured event of Feile na hInse 2022 which will take place on the 15th and 16th of April, in the Inishowen Gateway Hotel, Buncrana. The rescheduled event has been on hold since lockdown in 2020, and ITMP is excited to be planning to stage its first in-person event in over two years!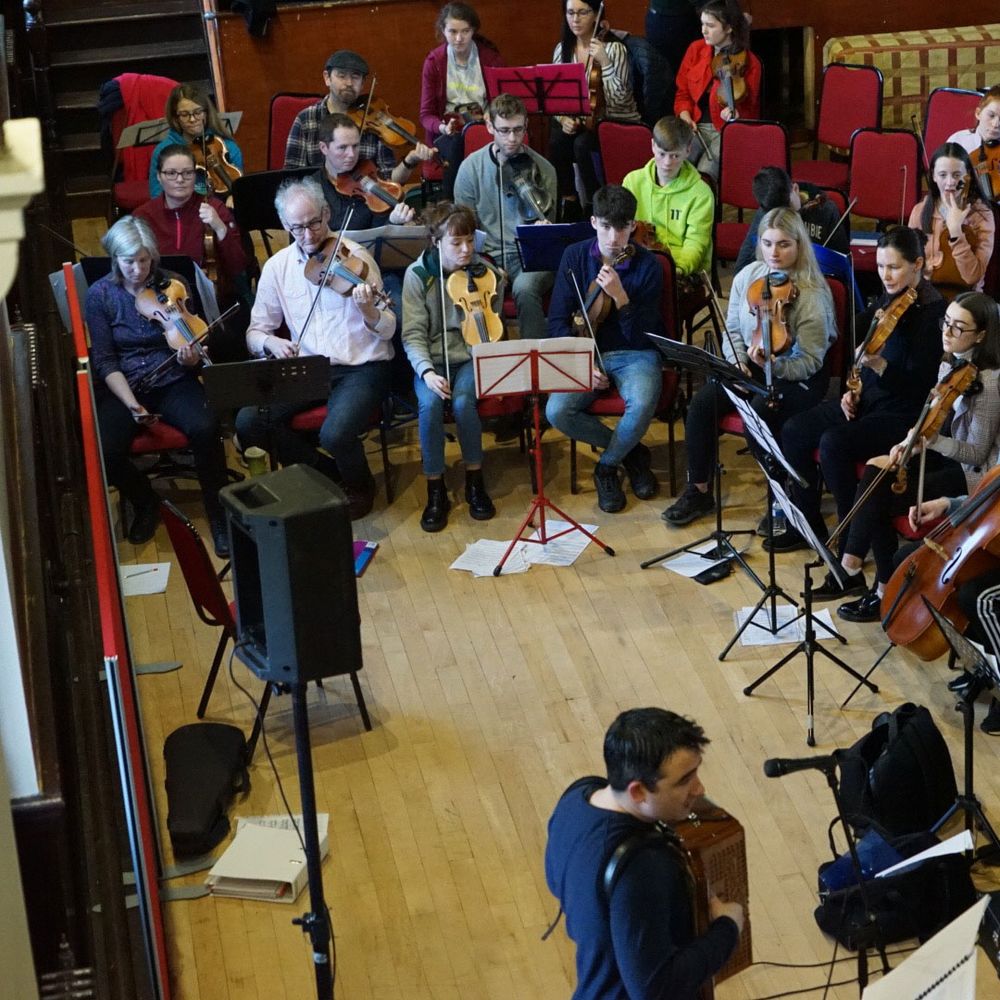 ITMP will again begin the process of re-assembling over 100 musicians and singers together to form the Inishowen Trad Orchestra to perform the new suite of music by renowned musician, composer and arranger Martin Tourish. The suite was developed by Martin to trace the story of Inishowen's rich musical tradition from 1100AD to the present day.
The orchestra is an ensemble of some of the finest traditional musicians from the area and spans the age spectrum from secondary school and college students, right through to the more mature members!  The music will follow the rich story of the development of Inishowen's distinct musical voice from the ancient Deus Meus, composed by Maol[Roisin Mc1]  Iosa O'Brollachain, a native of Culdaff (b. 1100AD) through to the collections of Honoria Galwey, to works by Dinny McLaughlin, Paddy Byrne and tunes played by musicians like Seamus Grant.
The concert will be a celebration of Inishowen's rich traditional music culture and will present the music in a new and innovative way. ITMP is delighted to have received the support of the LEADER Programme through Inishowen Development Partnership to host and stage this unique event. We are delighted that the Arts Council of Ireland- Festival Investment Scheme, and Donegal County Council have assisted with funding to develop events for the Feile na hInse 2022.
Over the past 23 years ITMP has been active in preserving, researching and developing a wide range of projects to highlight the traditional music of Inishowen. It has hosted festivals, workshops, concerts, masterclasses and exhibitions.
It has also been a significant player in recording and archiving the music of Inishowen, including publishing CDs and films and hosting a unique archive of music from the area. It is particularly active in teaching music through specialist tuition and working alongside other organisations to reawaken interest in instruments such as the Uilleann Pipes and the harp.
The concert will be recorded and filmed for archival purposes and will be an important addition to ITMP's archive hosted on its website.